Some of the Prettiest Tolix Chairs By Melissa Edelman Antiques
Tolix chairs have been so popular, I see pictures everywhere.  Pinterest, facebook, you name it, the Tolix chair is featured as one of the most favorite chairs of the year.
The Tolix chair was designed by a Frenchman in 1907, by the name of Xavier Pauchard. His very first chair looked remarkably similar to those chairs we see all over the magazines today. Pauchard used galvanization which is a process of applying a protective zinc coating to steel or iron, in order to prevent rusting. The most common method in current use is hot-dip galvanization, in which steel parts are submerged in a bath of molten zinc. Galvanizing is also favored as a means of protective coating because of its low cost, ease of application and comparatively long maintenance-free service life.
The Tolix chairs are being produced by the top furniture companies and are being featured in almost every design magazine world wide. They are being photographed both indoors and outdoors, and being used as a regular dining chair, and doubled as a patio chair.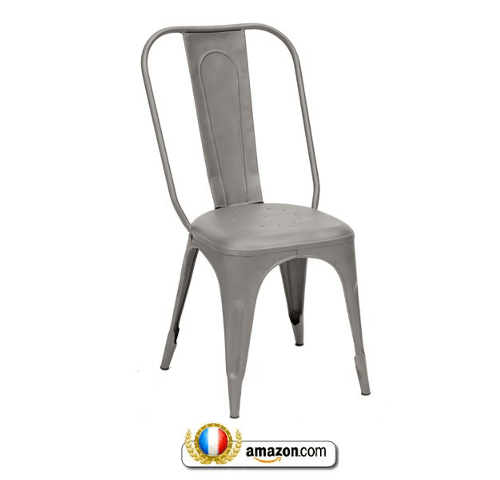 Almost Like the Classic Tolix Chair, This French Bistro Chair is only $129!
Almost identical to the Tolix chair, this French bistro dining chair is the perfect chair for your home. Leave it in its metal state or paint it with a paint formulated for metal for the perfect shade that will fit with your existing furniture. New, sells this chair for only $129
Tolix Chairs From  Anna Magnier's Pinterest via Greige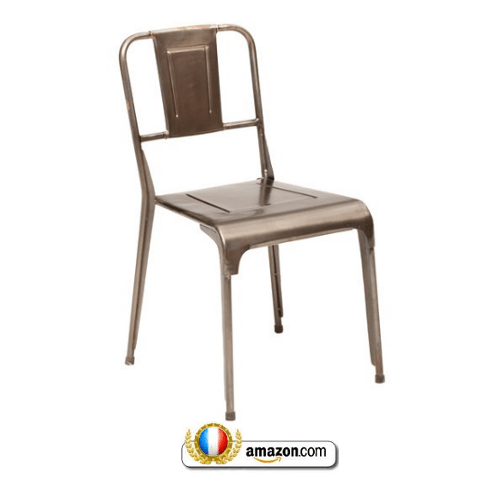 Much like the Tolix chair, this Declan dining chair has all the good looks of industrial furniture with a new unique look. This chair sells for $275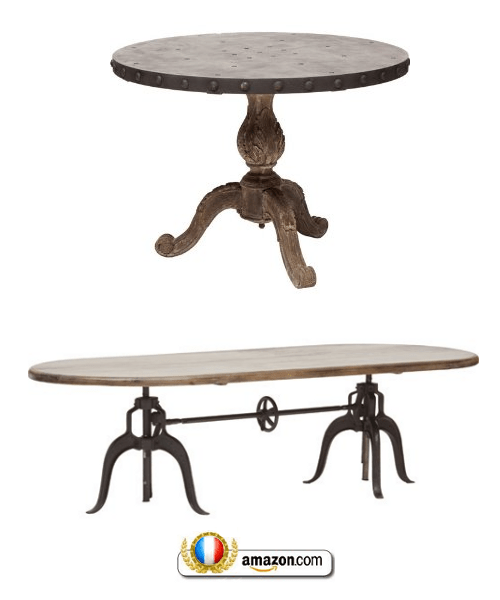 Contrasting elements are a nice fit for the Opera dining table. With a round metal top and a detailed wooden base it is equipped for a queen. All finishes are hand applied and sanded repeatedly. Coated with a lacquer top coat or wax. The Opera Dining Table sells for $1,399
The Rockwell collection features an industrial aesthetic with a unique blend of iron and distressed wood. The collection features working gears and moving parts on select pieces. The iron is torched with fire, and then a black wax is applied. This is a molded reproduction of antiques. This very special table sells for $1,899
Additional Interesting Items
Cassanova Wine Table– This great table is made from old wood. Put your wine in the bottom, table top is wood banded in metal, and roll it around to where you want. Just an all around great piece for $1,499
Element Sideboard – Function meets unique design in the Element collection. The occasional collection is crafted of iron and steel that features an antique nickel finish. $1,699 Other Pieces in the Collection, Element Tall Cabinet, Element Media Console, Element End Table
The Hudson Console is a piece of furniture that has a lot of versatility. Natural finish on walnut wood, two drawers with metal hardware, metal frame $1,599
Sitcom Crank Metal Coffee Table in Mocha by Sitcom $480
European Watering Cans with An Antique Finish. $70
Jade Coffee Table– Traditional Chinese elements blend seamlessly with colored antique finishes in the Zhang collection. Each piece is based on traditional patterns, emphasizing distinctive shapes, and cutouts. Crackled paint finish, rubbed down at the corners for an authentically aged feel. Hand-painted and distressed $749